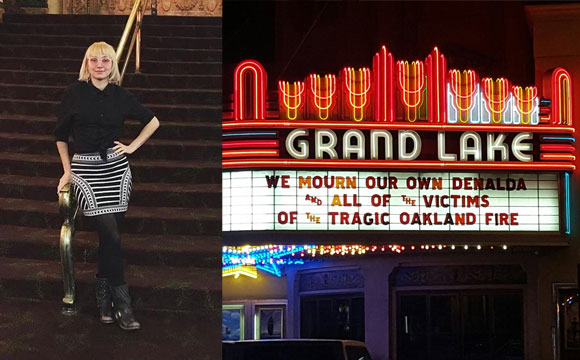 Last Friday's Oakland warehouse fire took the life of Nicole Renae Siegrist, assistant manager at the Grand Lake Theatre in the city of Oakland. Allen Michaan, owner of the theatre and a long-time NATO of CA/NV member shared the staff's sorrow earlier in the week as they waited for a positive identification after learning that Nicole was at the warehouse with her friend and band mate Benjamin Runnels, who was the first fire victim to be identified. "Nicole was one of our most beloved team members" stated Mr. Michaan, "she was a wonderful outgoing pretty young lady in her 20s and our customers and staff all loved her."
Upon verification of her death the theatre posted a tribute to "Denalda" and the other victims of the fire on their marquee. A memorial will be held on Tuesday (12/13) at 8pm in the main auditorium of the Grand Lake Theatre.
We extend sincere sympathy to Nicole's family, the Grand Lake Theatre team and the Oakland community on this tragic loss.
The following article is from the East Bay Times.
Nicole Renae Siegrist, 29, left her Lincoln, Neb., hometown to pursue her dreams of creating art and music in Oakland. She was at the "Ghost Ship" warehouse with band mate Ben Runnels, who also perished in the blaze.
Siegrist — known as Denalda Nicole Renae — and Runnels performed as "Introflirt," a synthpop band with a name that played off Runnels' introversion and Siegrist's outgoing demeanor."Right off the bat she would talk to anyone," said friend and band manager Brendan Dreaper. "Especially when she took on her stage persona — she had a team of friends who would help her design outfits with a new style for every show. If I didn't know who she was I would have thought Ben was playing with a different person every time."
Siegrist, who played the synthesizer, would literally combine her passions for art, fashion and music, sometimes painting dark swaths across her face to contrast with a white dress, veil and halo of flowers on her head.
She was super brave and carved her own path," former bandmate Travis Beck told the Omaha World-Herald. "She used her weirdness as a strength."
Siegrist pursued a degree in textile clothing and design at the University of Nebraska-Lincoln before coming to Oakland. She was involved in the art and music scene in Nebraska as well, and Carina McCormick, who knew Siegrist in Lincoln, told the World-Herald that many in her hometown are grieving.
"People were just drawn to her from her energy, her unique perspective, optimism and creativity," McCormick said.